I was recently sent a code to unlock a household record for free from the newly released 1939 Register at Find My Past. I would love to explore the 1939 Register but the cost of accessing the records has put me off. I understand that people invest a lot of money in digitising records and need to make money but I just don't have any spare money for accessing these kinds of records at the moment.
Anyway, thanks to my free credit I was able to access one record. But which record to choose? I opted for my paternal grandparents as 1939 was the year before my father, their only child, was born. I knew they moved to Swindon at some point around this time so was interested to see where they were living.
I searched for my paternal grandmother – Viola M Young. Her first name is quite unusual so she was easy to find and according to the site was living with her husband – Henry H Young in Southampton. I used my code to see the relevant page of the 1939 Register.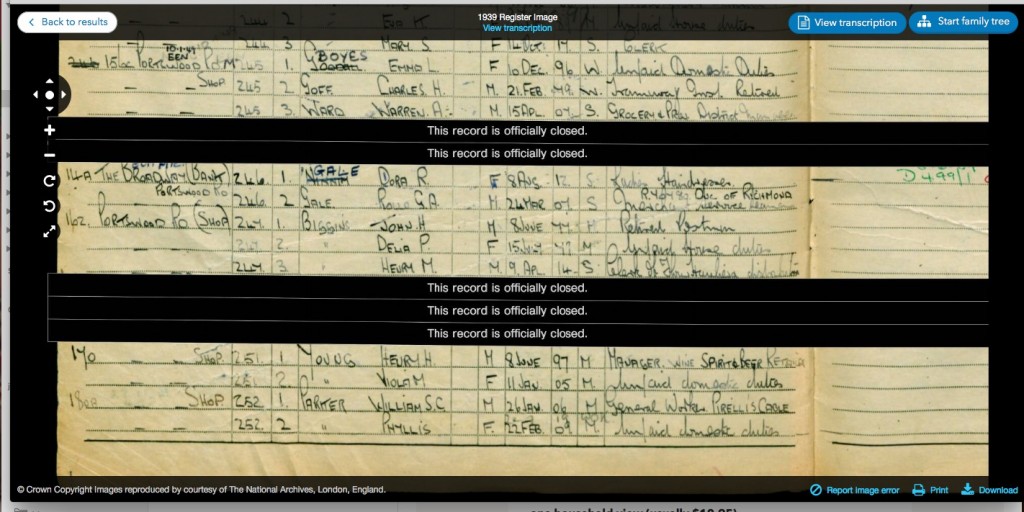 They were living at 170 The Broadway, Portswood Road, Southampton. As well as their dates of birth, the fact they were married, the 1939 Register gives their occupations. My paternal grandfather was Manager, Wine, Spirit and Beer Retailer. This record has been transcribed as Retired, but I think it says Retailer so have submitted a request to amend their record.
My grandmother has her occupation listed as Unpaid domestic duties.
It was really interesting to find this record but I don't think it was worth the money that Find My Past are currently charging to access the records. Hopefully they will become cheaper and I will be able to use it soon.