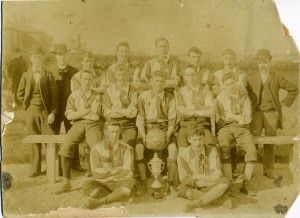 Description Black and white group photograph showing a football team, one man holds a football which features the words RED 1895, beneath which is a silver cup.

Caption for picture My great-grandfather, George Benger (1876-1951) appears in the centre of the back row of this football team photograph.  In 1895 he was part of the winning team and won a silver shield in the Senior Cup which is now in my possession. The shield he was given is engraved with 'Portsmouth Football Association', his name, and the letters GRS. His occupation was a Plumber, he later worked for the Naval Ordnance, and was awarded the Imperial Service Medal for 'Particular Meritorious Service' in 1936.
Comments
I chose this photograph as it illustrates a different side to this relative, rather than the usual birth, marriage, death or occupation facts I have usually uncovered.