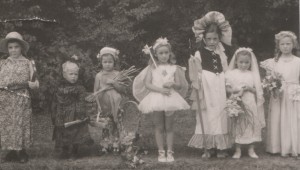 Description
Black and white photograph of a group of children in fancy dress.
Caption for picture
My grandmother made all my mother and aunt's clothes and I have many photographs showing them in knitted swimsuits, Sunday best and fancy dress. My mother, third from right, is dressed as Little Bo Peep. My aunt, second from right, wears a wedding dress. Taken around 1945 in Swindon.
Comments:
I have so many photographs of my mother and aunt in similar situations. They really make me smile as I'm currently experiencing the same kind of events  with my own young children. Writing about this image has made me feel guilty I don't know more about the circumstances, so I'll be asking my mother about it today!
Edited – "it was taken at the St Mary's Church, Rodbourne Cheney, Swindon, summer fair, in the Vicarage garden. It was taken with a Box Brownie, and I think it would have been in about 1948, the year we went to live in Rodbourne Cheney. I wore my Little Bo-Peep costume that I'd previously worn for the Victory street party at the end of WWII, but I'd grown  a bit, so Nanny put a frill on the bottom to make it long enough. Pauline was a bride, but neither of us won the prize. I was 7, Pauline was 3.
Nanny made both our costumes, as she did for almost everything we wore, and fancy dress costumes were constantly recycled to make different ones for cousins, etc. She was a whizz with sewing and knitting, and because materials etc were on ration, adult clothes were unpicked to make clothes for children. Jumpers and cardigans were unpicked, the wool skeined and washed, and used again. Only people who were handy with a needle could do this, and mum's skills were used by all her family."