My creative writing course is going really well although I am struggling to fit in the work around normal life. One of our latest exercises has been writing captions for photographs. I thought this would make great posts as I love sharing my family photographs.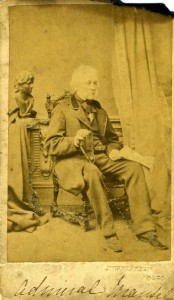 Description 
Black and white portrait card of Admiral Mansel seated at a chair holding a walking stick in his right hand and papers in his left. He wears a suit, is white haired with a beard and ancient. The card is signed in ink.
Caption for picture
Black and white portrait card of Admiral Mansel in old age. Thomas Mansel (1783-1869) was the 7th of 11 children of Sir William Mansel, Baronet. He entered the Navy in 1798, he served under Lord Nelson at the battle of Copenhagen, and travelled to every quarter of the globe.
Comments
I adore this photograph as I have many of this type but all un-named except this one and one of his son. I like to think he was a very grand man as this photograph is so serious but I'll never know!