Tonight I spent some time uploading information to the Lives of the First World War site about my great uncle Alfred Mansel Young (you can see his life story page here). As you all know, this weekend is Remembrance Sunday which seemed like the perfect time to encourage you to use the site too.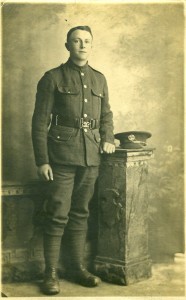 The site is really easy to use:
Go to livesofthefirstworldwar.org
Who will you remember? – type in a surname (and service number, if known)
Find your connection in millions of Life Stories already started by IWM
Create a free account and press the 'Remember' button on the Life Story page – so everyone can see who you are Remembering
Use email, Facebook and Twitter to Share the link to the Life Story page with your family and friends.
Use #remember and #LivesOfWW1 to join the community remembering together on Twitter.
Who will you remember? Your First World War connection could be a relative who served, someone who shares your surname or a person listed on your local war memorial.
Upload your story to ensure that these Life Stories are remembered now and saved for future generations on Lives of the First World War.