Recently my mum has been helping her cousin identify some old photographs. I inherited lots of photographs from my maternal grandparents and luckily they went through a lot of them with me when they were still alive.
I have three new photographs to add to my collection. Unfortunately they've been scanned to a very small size but it's nice to have them.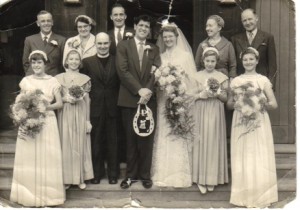 Keith Hacker's wedding, 1960s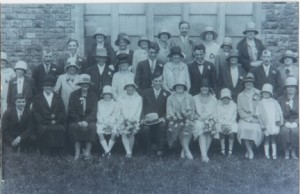 Les Hacker's wedding
front row, third left, Nanny Hacker, Auntie Bid, Kath Winchcombe, bride and groom, Auntie Dor, Auntie Else. Middle row – 3rd left, Grampy Hacker, Uncle Chip just behind him, miss 3, then Uncle Cecil, Auntie Connie, Uncle Reg. This must have been taken before 1935, as Grampy and Uncle Cecil died that year from TB. The whole surviving family (4 boys, 4 girls) of the 10 children Nanny had, are on this photo.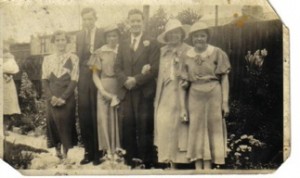 Auntie Dor's wedding