I haven't had much time for any family history research lately. It's going to be a hobby which I dip in and out of when I have time.
I thought I would use this blog to make a note of queries I have, perhaps someone will read and be able to help 🙂
What do you do when you would like to trace an old address? I have relatives living on the Isle of Wight according to the 1841 census and I would love to try and trace the house they were living in.
In 1841 George Caswell was recorded as living at Hawthorn Cottage, Northwood, Isle of Wight, Hampshire. I'm from the Isle of Wight so I often think about tracking down this property. Last time we visited we even went to Cowes/Northwood and it was so frustrating to be in the area and not know where this property was. I admit I was on my iPhone googling like mad but unable to find anything.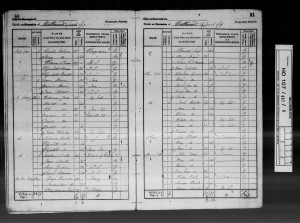 The 1841 census was brief but it shows that Hawthorn Cottage was in the Parish of Northwood and surrounded by Mill Hill, Ivy Cottage, Three Gates and Broadfields.
The occupants of the house were
George Caswell, age 40 profession Navy
Louisa Ann Caswell, age 25
Benjamin Leigh, age 70, profession Navy
Elizabeth Leigh, age 60
Henry Leigh, age 20
Selina E C Mansel, age 13
Anne Delicate (sp?), age 20, house servant?
I've just looked on google maps and Mill Hill still exists so perhaps it's just a case of driving down the road looking to see if any houses have their original names on them? We've done this before and were lucky – which I must write about another time.
Alternatively I could go to the Record Office but I feel they must be too busy to answer this kind of enquiry.